Top WordPress Plugins to Make Your Website Editing Easier
WordPress is the most popular content management system for good reason. It makes it possible for anyone to create a professional website without having to hire a web developer or learn how to code first.
Still, editing the website can prove a challenge for a non-coder. Luckily, there are website builder plugins you can install to simplify the editing process. All you have to do is install one and use it to customize your website and present your content exactly the way you want to.
Now, the WordPress plugin directory has more than 50,000 plugins. Deciding what website editor plugin to install can quickly become daunting. To narrow down your options and help you make the right choice, we've presented the best website editing plugins for WordPress below. Check them out and learn what makes each plugin worth installing.
What are the Best WordPress Plugins for Website Editing?
1. Elementor
Top of the list is our favorite website editing plugin for WordPress: Elementor. A simple interface coupled with powerful features has made it one of the most popular page builder plugins. Beginners can get up and running quickly and even seasoned WordPress users rave about it. That it's compatible with many WordPress themes also helps.
Using its drag-and-drop WYSIWYG (what you see is what you get) interface, editing your site is as simple as clicking and dragging elements. You have control over every element on the page you're editing. On top of this, Elementor boasts one of the fastest plugin interfaces. Everything is instant from the page load, drag-and-drop, to the live edit.
Tons of widgets, pre-built templates, and unique features such as headline effects, gradient backgrounds, and animations allow you to create sophisticated web pages without typing a single line of code. Last but not least, you can rest assured you will be left with clean code if you ever decide to stop using Elementor.
2. Beaver Builder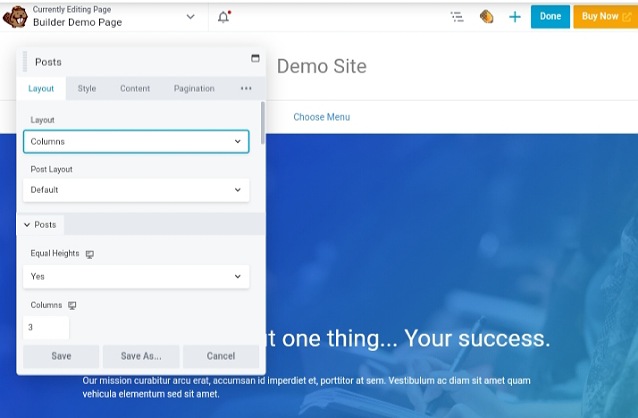 Prefer a flexible website editing plugin that allows you full control over the design elements? The Beaver Builder is the ideal plugin for you. Its a favorite of all: professional and beginner web masters as well as end-users love it.
Thanks to the combination of beautiful templates with a drag and drop system, even beginners can create stunning websites without having to learn how to code. Its front-end visual builder is unmatched when it comes to precision. Furthermore, it supports inline text editing so you type directly on a page.
Beaver Builder is also unbeatable when it comes to the feature set. It's mobile-friendly, compatible with WooCommerce, and offers reusable modules, templates, and rows. Last but not least, you can count on it to leave clean code should you decide to stop using it.
3. Divi Builder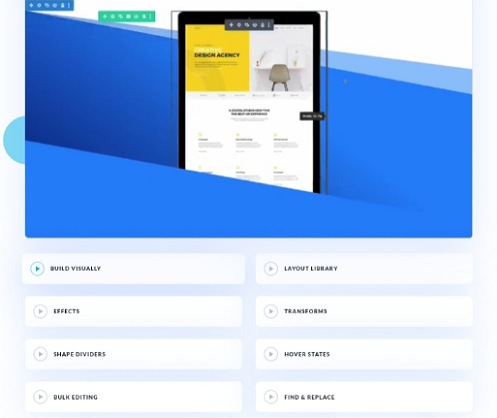 Divi Builder is one of the most powerful website building platforms for WordPress. The most impressive thing about it is the styling control it gives you.
A wealth of content modules and ready to use templates allow you to bring to life any type of website you've in mind. And you have control over the look and feel, the responsiveness, and many more aspects.
As for content editing options, it's both a visual front editor as well as a back end editor. It even supports inline editing so you can quickly edit the text directly.
Beyond a page builder, Divi Builder is also a theme builder. It allows you to create your own layouts and even use them on other websites. Another noteworthy feature is an integrated A/B testing system that makes testing a breeze.
4. Brizy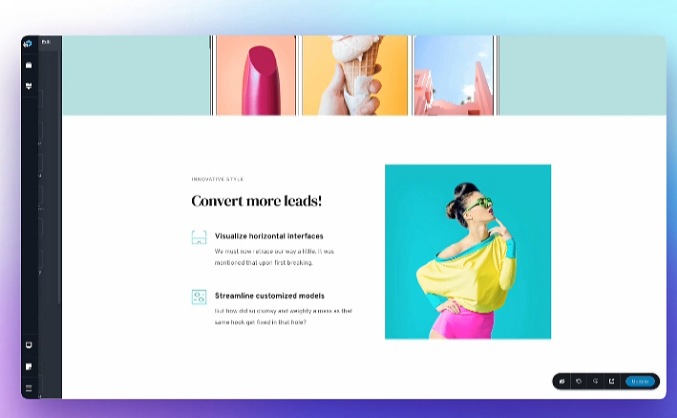 True to its name, Brizy makes website editing a breeze. It comes with a unique interface where all editing is done inline. This enables you to create and edit pages quickly.
Thanks to its focus on simplicity, Brizy has one of the most user-friendly interfaces for beginners. You can start with a blank block or pick a pre-built block.
The set of features isn't too shabby either. You can even use it as a theme and pop-up builder. We also love that it saves your work automatically.
5. Visual Composer
The beauty of Visual Composer is that it's a powerful and feature rich website builder plugin that gives you full control over your website. It offers beginners an easy way to build stunning websites while enabling experienced web masters to improve their workflow and create custom elements.
Despite the name, Visual Composer is both a real-time front-end editor and a back-end content editor. You can use it to edit every aspect of your website including the theme.
The user interface is smooth while the hub features tons of templates and elements you can download and use. This content editor is compatible with all WordPress theme. The only complaint is that it doesn't offer inline editing.
6. SeedProd
As one of the most important pages on a website, a landing page deserves its own editing plugin. SeedProd is the best WordPress landing page plugin. Packed with elements to improve conversions rates, it will help you create high-converting landing pages that deliver results.
Pick from tons of pre-built templates to customize or create a customer layout using the drag and drop builder. The clean interface is easy for even a first-time user to figure out.
Besides landing pages, you can use it to customize and optimize sales pages, opt-in page, coming soon pages, and more. SeedProd works with any WordPress theme and integrates with email marketing plugins.
7. Thrive Architect
Are you a blogger, affiliate marketer, or ecommerce business owner? Thrive Architect can help you thrive as it's focused on improving conversion rates and increasing sales.
It has the best inline editing functionality, which saves time as you can edit the text directly. The live preview shows you exactly what visitors to your website will see.
You get a variety of widgets and templates to work with and you can also add your own designs as reusable templates. Styling options are great as well and include responsive controls and custom spacing among others.
Lastly, Thrive Architect won't mess up your website should you decide to stop using it. It leaves behind clean code.
8. Themify Page Builder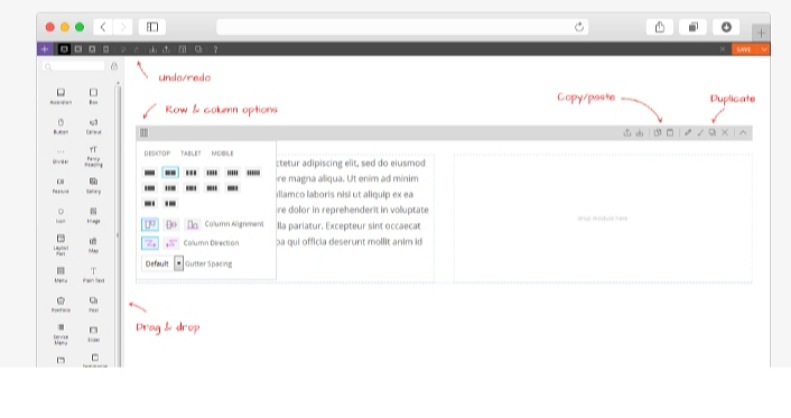 Themify is a page builder plugin designed to make website editing easier for first time WordPress users. Its simple and intuitive interface makes it an ideal plugin to add when just getting started with WordPress.
Versatility is one of the best things about Themify as a plugin. It lets you edit from both back end and front end interfaces. You can style the content, styling, animation, and visibility for any element.
You don't have to open the admin dashboard to edit your site as you can edit it right from the live site. And although it doesn't allow inline editing, it allows you to use the WordPress Editor whenever you need to.
The Themify plugin comes packed with ready to use modules professional templates, and animation effects. Featuring responsive elements, it lets you test your pages on different devices. Finally, it leaves clean HTML behind if you deactivate it.
9. WP Page Builder
Thanks its simplicity, WP Page Builder is a fantastic website editor plugin to try when you're just getting started with WordPress. It's easy and quick to get up and running with and its drag and drop functionality and layout packs enable you to create pages at the click of a button.
Despite this simplicity, WP Page Builder is more than just a basic plugin. Even the free version offers a nice array of widgets and styling options. It offers a real-time front-end editor and spacing and layout controls.
You can save rows for later use and use different settings for different devices. Unfortunately, this plugin doesn't support inline editing.
10. All in One SEO (AIOSEO)
All in One SEO (AIOSEO) is the best WordPress plugin for editing and optimizing content for SEO. It makes it easy to make comprehensive on-site SEO optimization. It's packed with features for monitoring and improving on page SEO and even allows you to customize the optimization settings to suit your industry.
When editing your website, it shows you how to optimize the meta tags, description, headings, and content. You can even audit your entire site to determine where to improve.
Beyond editing and optimizing content for the search engines, you can use it to generate an XML sitemap and add your site to Google Search console. All these features coupled with its effectiveness as a SEO optimization tool have made AIOSEO one of the most widely used WordPress plugins.
11. Yoast SEO
Yoast SEO is another popular WordPress search engine optimization plugin. It makes it easy to optimize your title, URL, and meta description in order to get your page to rank higher in the search engine result pages.
Besides optimizing your content for SEO, Yoast SEO also conducts keyword and readability analysis and recommends where to improve your content. As such, Yoast SEO helps you optimize your pages and posts for both human beings and search engines.
12. PrePost SEO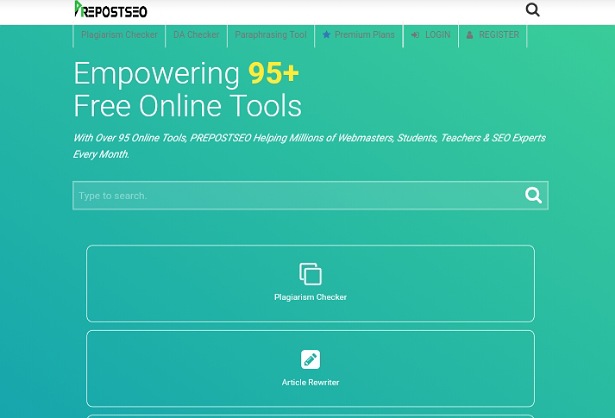 PrePost SEO has the potential to become your best friend whenever you're uploading or editing content. Despite the name, it's more than just a SEO plugin. It checks pretty much everything you want to fix when editing website content and blog posts.
Beyond evaluating your meta tags and keyword density, this website editing and optimization plugin also checks your content for broken links, duplicate content, and plagiarism. It then offers suggestions to improve your content, making you a better writer and editor in the process.
13. Smush
A website is made of more than just text. Images are crucial to making a web page engaging and ensure it ranks well in the search engine results pages. Achieving this without compromising on your page speed requires that you optimize every image you upload.
Doing this manually is a tedious and time consuming task. The good news is that there are plugins designed to offer an easier way to edit and optimize photos. Smush is a top favorite image resizing, compression, and optimization plugin for WordPress sites.
It automatically compresses images as you upload them to a page or post and without sacrificing image quality. The beauty of Smush is that it uses its own servers to compress images. This means that it doesn't overload your site's resources. Your website loads quickly, satisfying both human readers and the search engines.
14. Broken Link Checker
With time, some of your external and internal links become broken links and start returning 404 errors. Locating broken links manually is an impossible task. The good news is that there's a reliable plugin to handle this.
Broken Link Checker scans your site for broken links and lets you know when and where they appear. You can then navigate to their location and remove or update the broken links. By doing this, this simple plugin keeps visitors satisfied and prevents a drop in your search engine ranking.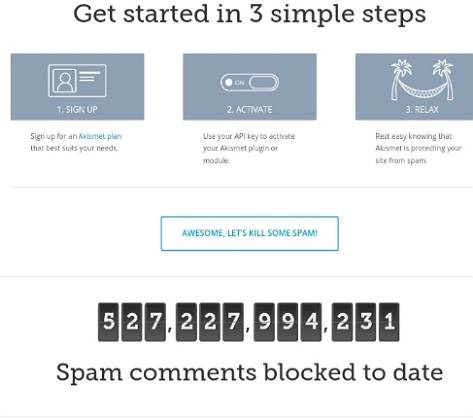 As long as you've enabled commenting on your site, you're bound to receive comment spam. Reading through all the comments to filter out the spam can take a lot of time. It's in response to this challenge that Automattic created the Akismet anti-spam plugin.
All you have to do is install and activate it and it will evaluate all comments and contact form submissions for suspicious content. As a testament to its usefulness, Akismet is the most popular WordPress plugin of all time, with more than 30 million users.
That's A Wrap!
One advantage of choosing to build your website with the most popular content management system is that you get a plethora of plugin options to make website editing easier. Thanks to these plugins, you can create a professional looking site without typing a single line of code.
Whether you're looking to build a custom theme or optimize your site for SEO, we hope this article will help you find the best WordPress plugin for the task. Install it and you'll find it easier to create a high quality site that delights and converts your target audience.
And if you don't have the time to build a fantastic looking site for your business, we can help you with that 😉