15 Reasons To Use WordPress for Your Landscaping Website
Are you wondering whether to use WordPress for your landscaping website?
Sure, it's the most popular blogging platform and powers about 455 million websites. But is it the best choice for professional landscaping web design?
Drawing from our years of experience using WordPress to develop websites for small businesses, we have firsthand knowledge of the benefits and drawbacks of using WordPress.
In this article, we'll help you weigh the pros and cons of going with WordPress. We'll lay out the reasons WordPress is the perfect website builder for a landscaping business.
We'll also talk about the disadvantages of the CMS and how you can avoid the pitfalls. As you will see, the benefits far outweigh the drawbacks. First, let's explore what WordPress is.
What is WordPress?
WordPress is a content management system (CMS) that allows you to create, organize, and edit a website without having to write any code.
Simply, it's a tool that makes it easier to create and manage a website.
There are other CMS platforms like Wix, Squarespace, Joomla, and Drupal but WordPress is ahead of them all. It commands a hefty 65.2% market share.
As you ponder taking your landscaping website online, one of the decisions you'll have to make is whether to use WordPress or opt for the other platforms.
Keep reading to learn what you can expect with the top website building system.
Should You Use WordPress for Your Landscaping Website? 15 Reasons WordPress Is The Best Platform for a Landscaping Website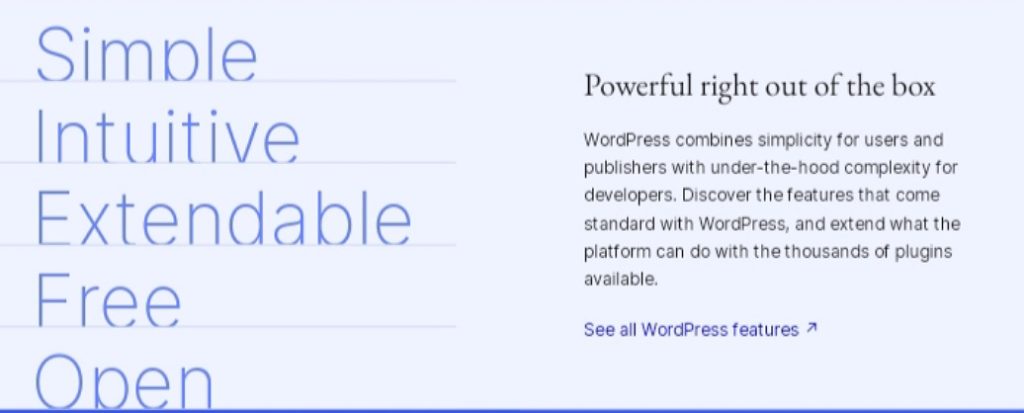 1. WordPress is Free and the Most Cost Effective Option
WordPress is absolutely free. It costs you nothing to download and install it. All you have to pay for is your preferred domain name and a hosting service. After that, you can easily find a free or affordable premium theme for your landscaping website.
Using WordPress enables you to keep your web development costs down. Building a landscape website with WordPress is way more affordable than hiring a web designer and developer to design and code up a website from scratch.
If you prefer to hire a web developer to develop your WordPress based site, you will still end up paying way less than if you were to design and develop a custom website from the ground up.
2. WordPress is the Easiest to Use CMS
From downloading the software to managing your website, WordPress is as user-friendly as CMSs get.
Installation and setup is straightforward even for a first time user. Many hosting platforms make this step even easier by offering a one click WordPress install. Simply click a button and you have WordPress installed. You can then start building your site right away. No further configuration required.
Thanks to a simple and intuitive user interface and a logical architecture, a first time user can grasp how the software works after a few minutes of exploring the dashboard.
Customizing themes and creating and editing content is also a piece of cake with the WYSIWYG (What You See Is What You Get) interface.
What's more? No HTML editing or FTP software is required to access and customize themes and plugins. You don't need to learn programming in order to build and manage a WordPress site.
3. You Can Have Your Website Up and Running Quickly
Coding a website from scratch can take months. If you want to launch your lawn care business website as soon as possible, WordPress is your best option. Automated features and actions speed up the development process.
Building a WordPress site is a simple process that entails registering a domain name, choosing a hosting provider and plan, installing WordPress, choosing and installing a theme and you're set to go.
You can then publish your website content and submit your site to the search engines. With a process this simple, you can have your site set up and live in less than a week.
4. WordPress is Inherently SEO Friendly and Sets Up Your Website for SEO Success
Having been around for more than a decade, WordPress code has gone through plenty of fine-tuning.
Its code is clean, streamlined, and consistent. Exactly the kind of code Google and the search engines like because it's easy to crawl, read, and index.
Furthermore, WordPress has excellent on-page SEO capabilities. It generates meta tags (permalinks, keywords, descriptions, and titles) for all of your pages and posts and images.
You can even install a SEO plugin to help optimize your website content and blog posts further. Yoast SEO is the most popular tool for this.
Add to this a fast load speed and a great user experience and you have yourself a winning SEO formula. To quote Matt Cutts: "WordPress automatically solves a ton of SEO issues."
5. WordPress is Incredibly Flexible and Lets You Add Any Feature or Functionality You Want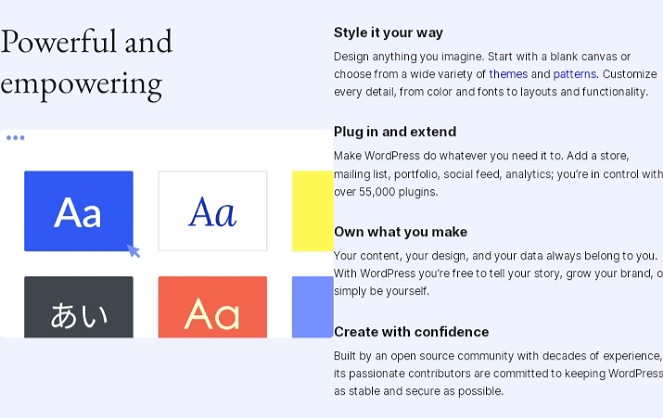 One of the best things about WordPress is that it doesn't limit you. It allows you to do more than just build a basic website to promote your lawn care services. It gives you unmatched freedom and flexibility to do just about anything with your website.
The platform comes with a plethora of plugins you can use to make your site function the way you want. Whether you want to enable your clients to book your services, let them pay online, create a membership area, or plan to sell lawn care products, you can do it all and more.
Moreover, the CMS integrates with virtually all kinds of third party services and platform such as PayPal and social media platforms.
6. WordPress is a Reliable and Secure Site Building Platform
With cyber threats on the rise, you need assurance that your landscaping your website will be safe from malware attacks.
WordPress has got your back here.It's among the safest and secure website development platforms available. Owing to a large community of developers that work to fix bugs and counter potential security threats, the platform has top notch security features.
The site building software itself is updated frequently making it a reliable and secure platform for running your landscaping business website. In addition, the themes and plug-ins developers are constantly releasing newer and more secure versions of their apps.
On top of all these, you can secure your website even further by installing security plugins such as firewalls and malware scanners.
7. You'll Build a Modern Responsive Website
We're currently in the mobile age. Most people looking for landscaping services and most visitors coming to your website will do so via mobile devices.
Still, there are visitors who will browse from their desktop computers and laptops. Because of this, it's vitally important to build a website that renders well on any type and size of device.
In response to this, the majority of WordPress themes are responsive. With a responsive theme, your site is resized and optimized to suit the device viewing it. This ensures that visitors always get a great user experience that leaves them impressed.
Beyond how your site displays on various devices, the WordPress dashboard itself works well even on smartphone. This allows you to work on your site from anywhere.
8. You'll Have Complete Control of Your Website
WordPress is an open-source software. This means that anyone can access its code and modify it. With your site, you will have full access to the code and can modify it as you see fit.
You don't have to pay a web developer if you need to add or change something on your site. You can also customize any theme you choose to match your brand.
Last but certainly not least, you own your WordPress based website. Everything from the files and data belong to you. You're not even tied to one hosting company. You can move your website anywhere and even transfer ownership.
9. You Can Delegate Website Tasks Without Granting Full Access
WordPress also makes it easy for a small business owner to delegate website management tasks without giving full control of the site to anyone.
You can set up multiple users for the website and assign different capabilities to each user. The different access roles include super admin, administrator, editor, author, contributor, and subscriber.
For example, you can give your web developer administrator access. You can also allow your content writer to log in and upload content without accessing the other aspects of the website.
10. You Can Upload Different Media Types Easily
A landscaping website is visual in nature. Words alone are not enough to communicate what you do and what makes you stand out from the competition.
You need images and videos to convey what you do. For example, you can showcase before and after images and feature videos of your team at work.
These visual cues also makes your site more interesting and engaging. Visitors linger on your website longer and you have a higher chance of converting them into clients.
Thankfully, WordPress makes it easy to incorporate multimedia files into a page or post. This versatile CMS supports pretty much any type of media file type.
You can upload images, audio, video files and even embed YouTube videos, Sound Cloud files, and social media posts on your site. What's more? It is also easy to edit these files on the media library screen within the dashboard.
11. Customer Support is Readily Available
One of the most important considerations when choosing a site building platform is the quality of support offered. WordPress shines here as well. You will benefit from an excellent online support system.
Whether you're looking for a beginner's guide to using the software or have a question, there are countless video tutorials, books, blogs, and how to guides with the answers you need.
Besides the official support, WordPress has a robust community of developers and users that help each other. If you hit a snag, there are thousands of online forums and boards where you can get professional advice. It's also easy to find a developer to fix bugs and get your website running smoothly.
12. Your Website Will Be Easy to Manage and Maintain
The last thing you want is to have to contact and pay a developer every time you want to make changes to your site.
WordPress allows you to manage and maintain your site on your own. You can easily access and edit content from the dashboard. You can even edit the source code directly.
Keeping the software updated is easy thanks to an automatic update feature. Even the theme and plugins are updatable right from your admin dashboard.
13. You'll Create a Website That's Easy to Scale
With WordPress, there are no membership levels or perks to unlock by paying. You get access to the full package right from the get go.
WordPress doesn't limit the growth of your site. With the plugins and extensions, you can add new feature and functionality any time you want. It's no surprise that 62% of the top 100 fastest growing US companies use WordPress for their sites.
You can expand your site as much as you want without having to pay a dime. If your site grows to hundreds or thousands of pages and posts, rest assured the platform can handle it.
If your website ranks high in the search engines and starts to receive hundreds or thousands of visitors every day, you still won't be charged. In short, you can easily scale your WordPress site as your business grows.
14. You Can Easily Add A Blog To Your Website
Blogging is a great way to improve your search engine ranking and attract targeted visitors to your website.
Publishing helpful content also helps you connect with potential clients and positions you as an expert in landscaping field. Potential customers trust you to take care of their landscaping needs.
WordPress was first and foremost a blogging platform. Its pages and posts structure makes it easy to incorporate a blog into your website.
It's no surprise that it has the best blogging functionality with advanced tools. You can run a simple one-author blog or a sophisticated online magazine.
15. WordPress Keeps Getting Better
WordPress has been around for almost two decades. All through this period, a network of developers have been at work to make the software better for everyone.
All these years of testing, fine-tuning, and enhancing have resulted in a world-class site building system. And it will only continue to get better. It's hard to go wrong with such a high-quality and innovative website builder.
Are There Any Downsides to Using WordPress?
As with anything, WordPress has its share of negatives. As you decide whether to use WordPress for your landscaping website, it's smart to consider the following disadvantages of this platform.
1. Too Much Flexibility Can Be Tricky
The level of freedom WordPress gives you comes with a lot of responsibilities. Tinkering with the code when you're not sure what you're doing can result in catastrophic errors.
As a non-technical user, it's best to limit yourself to the pages, posts, forms, and plugins sections of the website and hire a professional to handle any advanced customizations.
2. It's Susceptible to Security Attacks
We've already established that WordPress is one of the safest site builder. However, that it's a popular open-source CMS makes it a popular target for hackers. Even with the frequent updates, it's still susceptible to security exploits.
It's important to install updates, set strong passwords, and make sure you only download themes and plugins from trusted sources.
3. Too Many Plugins Can Compromise Performance
Too much of a good thing is bad and this applies to WordPress plugins. Installing too many plugins can bloat your site and slow down its performance. The best approach is to only install the essential plugins to improve the functionality of your site without hurting its performance.
It's A Wrap!
When it comes to creating a landscaping website that gets found by your target clients, WordPress is your best friend. It simply blows the competition out of the water.
It's free and easy to use yet powerful and versatile. Hopefully, this article has done a great job of painting just how awesome WordPress is as a professional website builder for a small business.
Still, the best way to actually experience how powerful and user-friendly WordPress is to use it.
To overcome its downsides, we recommend working with an experienced WordPress developer to create a high-performing website that presents your landscaping business in the best light.
Our team of web designers and developers can help you create a professional WordPress website that impresses your target audience and wins clients. Contact us today! We will design a custom mockup of your website for free!