12 Effective Ways to Market Your Lawn Care Business Online
Most people start their search for lawn care services online. Even word of mouth referrals will research your company online before deciding whether to hire you.
A solid digital marketing strategy is, therefore, critical to the success of your business. Here, we will show you how to effectively market your lawn care or landscaping firm online.
Whether you offer basic lawn mowing services or have a premium landscaping company, below is a list of proven online marketing techniques you can implement to generate new clients and grow your business.
Best Online Lawn Care Marketing Strategies For Your Lawn Care or Landscaping Business
1. Set Up Social Media Pages for Your Business
Your target clients hang out on social media sites. Creating social media pages for your business is the best way to connect and engage with both current and future lawn care customers.
Having a presence on Facebook, Instagram, Twitter, LinkedIn and other social media sites can really help your business take off.
Upload beautiful photos of the lawns you maintain, share valuable lawn care tips and tricks, and promote special offers.
This way, you will build brand awareness and amass a following gradually. People will find and like your page and ask you to take care of their lawns.
2. Advertise Your Lawn Care Business on Facebook
Facebook is one of the most powerful online lawn care marketing tools. It can help you land new lawn care clients fast. Being the largest social media platform, you can rest assured most of the clients you're targeting are on Facebook.
Facebook ads offer you a way to put your business in front of your ideal customers. You can narrow down your target audience by demographic factors and location so you can generate high quality leads.
Best of all, Facebook advertising is low-cost and delivers excellent returns on investment. Try Facebook ads and you will be amazed by the results.
3. Create a Google Business Profile for Your Business
When someone Google's your business or searches for landscaping services in your area, Google will bring up your Google Business profile. Display photos of your best landscaping and keep your contact information up to date.
Creating a Google Business profile is also the first step to showing up on Google Maps and generating Google reviews for your business. Most people will consider your lawn care business if your Google reviews are positive.
Furthermore, you can go a step further and create a Bing Places for Business listing to ensure your business will appear on Yahoo and Bing as well.
4. List Your Business on Online Directory Sites
Marketing your landscaping business online is all about increasing your brand's exposure and generating social proof for your business.
Besides Google and social media platforms, there are plenty of other websites where you can list your business, create a profile, and get genuine reviews and ratings.
Examples of such sites include Yelp, Home Advisor, Angie's List, Houzz, Porch, Thumbtack, and Trust Pilot. Showcase beautiful photos of your lawn care work and be sure to keep your profile and contact information up to date.
5. Create a Website for Your Lawn Care Business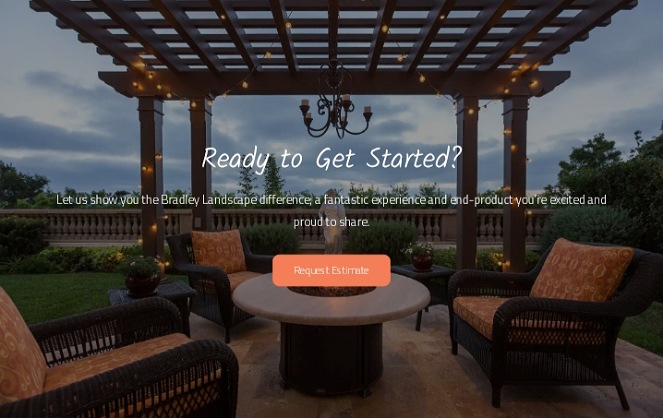 A website is a vital component of your lawn care digital marketing strategy. Having a well-designed landscaping website ensures that people searching for landscaping and lawn care services online will land on your website. This way, your website can be a lucrative source of lawn care clients.
In addition, a website functions as a hub for all your online marketing efforts. Whether you're advertising on Google or social media platforms, having a compelling website can improve your lead generation results.
Just make sure that your lawn care web design looks good, works well on all devices, and clearly conveys your unique value proposition. Learn how to create an effective lawn care or landscaping website here.
6. Utilize Search Engine Optimization to Generate Free Leads
Your landscaping website won't deliver the results you're looking for unless your target audience can find it.
But appearing on the first page of search engine results isn't a matter of luck. You have to optimize your website to rank well for the keywords you're targeting. This is where search engine optimization (SEO) comes in.
The journey to the top of the search engine search results requires that you optimize your website content for the phrases your target audience use when looking for landscaping services.
It will take time to see results from your efforts, but the ROI is huge. SEO keeps delivering results for a long time.
7. Incorporate a Blog and Publish Blog Posts Regularly
All landscaping site with a regularly updated blog brings in 67% more leads than websites without a blog. First off, publishing useful and relevant content will improve your search engine rankings and increase traffic to your website.
Sharing lawn care advice and solutions to problems will also demonstrate your expertise, and help you connect with both new and existing customers.
When visitors trust you and believe you have the capability to take care of their lawn, they are more likely to hire you.
8. Advertise Your Lawn Care Business on Google
As you wait for your SEO efforts to pay off, you can get your lawn care website to appear on the top of search engine results pages by investing in Google Pay Per Click (PPC) Ads.
Just like Facebook, Google allows you to target ads to your niche market. When people search for lawn care and landscaping services in your location, your ad will appear at the top of the search results.
This increases visits to your website and brings leads and clients. Best of all, you only pay when someone clicks on your ad. You can even include a phone number or click to call extension on your ads so people can get in touch right away.
9. Capture Email Addresses and Use Email Marketing
Most of the visitors to your website won't contact or hire you right away. They will land on your website, browse around, and then leave. Email marketing allows you to follow up with these prospects. It's also one of the best ways to build relationships with prospective clients.
You can send your subscribers a monthly email newsletter and email them special offers. Staying in touch will help you close more sales. Your business will be on top of their mind so they will think of you when they need lawn mowing or landscaping services.
To get visitors to leave you their email address, make sure your landing pages have lead capture forms! Just offer something of value for free and ask to send it to their email. For example, you can offer to email them a winter lawn care guide.
10. Build Social Proof for Your Business Online
People are more likely to trust and hire you when you have positive online reviews that demonstrate your reputation for outstanding work. Building and managing your reputation online is, therefore, a critical part of your online lawn care marking strategy.
The best way to get customers to leave reviews on third party review platforms such as Google and Yelp is to wow them with excellent work and service. You can also ask your happiest and loyal clients to share descriptive testimonials that you can feature on your website.
Be sure to respond to all reviews. Express your gratitude for positive reviews, and apologize and address concerns expressed in less than stellar reviews. These responses can encourage happy customers to remain loyal and win over disgruntled customers.
11. Start an Online Referral Program
Word of mouth referrals are among the most effective sources of new clients for lawn care businesses. People trust recommendations from friends and family.
You can still take advantage of word of mouth referrals online by implementing an online referral program. The good thing about a customer referral program is that it brings in clients who are ready to trust your business. Also, you only pay when you get a referral.
You can encourage new and existing customers to refer your business to their friends and neighbors by offering discounts to customers who bring in new clients. Highlight this offer on your website as well as email newsletter.
12. Launch a YouTube Channel and Post Videos Regularly
Video content is the best way to engage with your customers. You can show potential clients who you are, what you do, and how you work.
You can also demonstrate best lawn care practices to showing people how to take care of their lawns.
Besides your YouTube channel, post the videos on your website, Instagram, Facebook, Twitter, and other social sharing sites.
Related Post: 40 Best Landscaping Websites for Inspiration
It's A Wrap!
From creating and optimizing a website for your lawn care business, building a strong social media presence to investing in digital ads, there are plenty of marketing strategies you can use to promote your landscaping business online.
Implementing these online lawn care marketing strategies can take your business to the next level. They will build your brand awareness, expand your online presence, establish a solid reputation, and increase the number of leads and business you generate online.
Be sure to set up Google Analytics and Google Search Console for your website so you can monitor the returns on your online marketing efforts and discover what strategies work best for your business.
Our team of web designers and developers can help you create a lawn care website that impresses your target audience and wins clients. Contact us today and we will design a custom mockup of your website for free!