The Best Landscape Design Websites
Are you planning to give your landscape design business an online presence or to revamp your current site?
Studying the top landscaping websites is a great way to learn the best practices to adopt as well as gain ideas on how to make your own landscaping website stand out.
To help out, we've hand-picked the top 40 best landscape design websites for inspiration. Check them out below!
The Best Landscaping Web Designs for Inspiration
The Ground Guys
URL: https://www.groundsguys.com/
What We Like: The Ground Guys have gotten a lot of things right with their website. From images that make a great impression, the use of high-contrast hues to draw attention, to expertly done copy. Even the calls to actions are loud and clear. Overall, the site makes the Ground Guys come across as approachable and trustworthy.
Mainscape
URL: https://www.mainscape.com/
What We Like: When you visit Mainscape's landscaping site, it's easy to see why they are the go to landscaping service for many homeowners. The images attest to their high-quality and award winning work while the copy and testimonials reinforce confidence in their services. The site is easy to scroll and call to actions at the bottom direct potential customers on what to do next.
Gibbs Landscape Company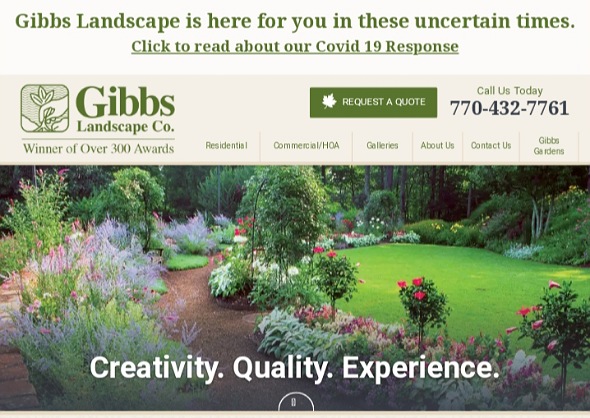 URL: https://gibbslandscape.com/
What We Like: Gibbs Landscaping is one of the best landscaping design firms. Expert use of content and images also puts their website among the top landscaping site designs. Thanks to a variety of amazing photos, clear titles, and concise text, you can tell at a glance what the company is all about. Finally, mentioning the 300 awards under their belt inspires confidence in their skills.
BrightView
URL: https://www.brightview.com
What We Like: Having a professional website has certainly helped put Brightview at the top of commercial landscaping companies. High quality photos stand out against a clean layout with plenty of white spaces. To go with the simple theme, the site has a clean logo and an easy to navigate interface. You get an easy, stress-free vibe as you browse. They also have a prominent email sign up button.
M&J Landscaping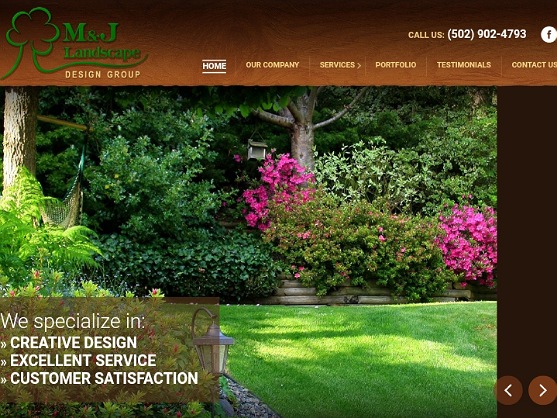 URL: https://www.mandjlandscape.com/index.php
What We Like: M&J has one of the most beautiful and inviting landscaping websites you'll come across. The featured images are beautiful and welcoming. Your eyes are then drawn to the statement on what services they specialize in. At the top of the page is a well-organized navigation menu and a phone number to call.
Lawn Doctor
URL: https://www.lawndoctor.com/
What We Like: The Lawn Doctor offers the best example of how to use copy to convince potential customers to trust you. Their custom and scientific approach is sure to make anyone with lawn issues trust them. Add to this the risk free guarantee and stellar ratings and you have yourself a conversion machine. The call to action buttons and form ensure visitors never have to wonder what steps to take.
Dwyer DesignScapes
URL: http://dwyerdesignscapes.com/
What We Like: If you're looking for a landscaping service that focuses on form and function, you immediately know you've found the right company when you land on Dwyer's landscape design website. The gallery shows you how your outdoor space can be both beautiful and functional. The copy reinforces this impression and convinces of their ability to unleash the full potential of your outdoor space. Great use of colors and clean design to keep the site welcoming.
Huntergreen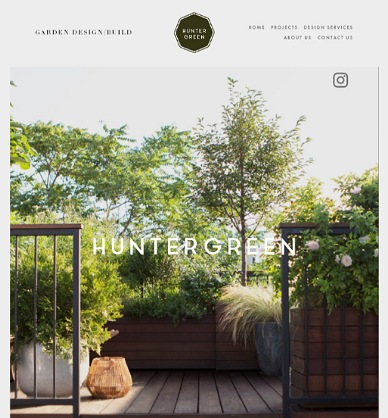 URL: http://www.huntergreen.nyc/
What We Like: If you're going for a minimal style, Huntergreen nails it perfectly. The site is calm and airy. Just like you want your outdoor space to be. Despite the light feel, it still manages to provide a rich experience. The clean navigation menu makes it a joy to browse.
Trugreen
URL: https://www.trugreen.com/
What We Like: The epitome of simplicity, with plenty of white spaces to create a breezy feel. The green color scheme also works great to direct attention to where it's needed. The featured image is beautiful and the text blocks communicate effectively. Last but not least, the phone number and contact form are easy to see.
Juniper Landscape Company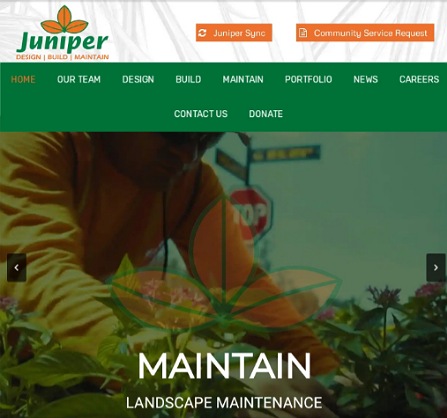 URL: https://www.junipercares.com/
What We Like: Excellent use of images to impress potential landscaping clients. The marketing content is clear and effective and the high-contrast colors draw the eye. With a logically laid out menu, everything you need and want to know is only a click away.
Chicago Dream Grass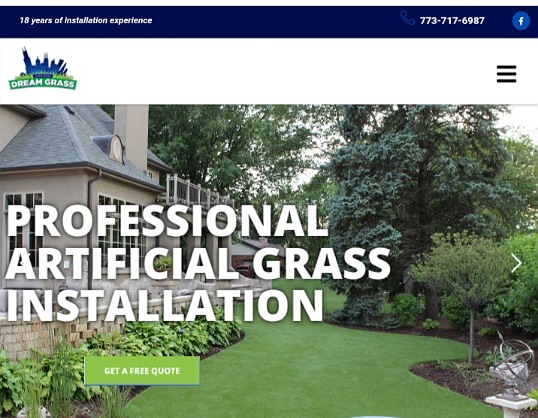 URL: http://www.chicagodreamgrass.com/
What We Like: Dream Grass makes it clear from the get go that they are the go to for artificial green grass in Chicago. The vibrant green hues are right on point and the prominent buttons provide quick paths to wherever the visitor would like to go next.
Lawn & Order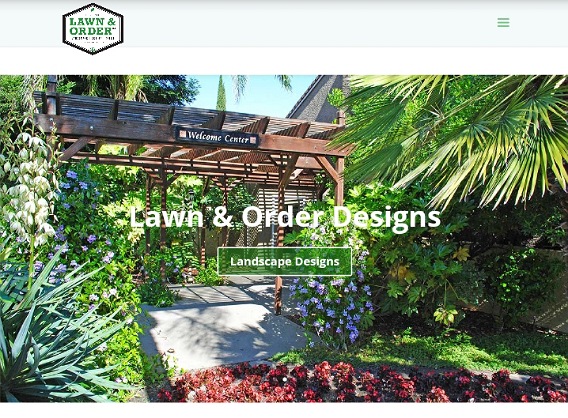 What We Like: First off, the interesting and catchy company name/website URL. The images show attractive and well-organized outdoor space and the text blocks quickly explain what they do. On top of this, the phone number at the center of the photo is also hard to miss.
Mulkern Landscaping & Nursery
URL: https://mulkernlandscaping.com/
What We Like: Large, beautiful images immediately catch your eye and make you fall in love with Mulkern's work. The navigation buttons are clear, allowing you to quickly find anything you want. Overall, the design is fun and flexible yet professional. The copy throughout the website is also excellent.
OneAbode
What We Like: One of the most beautiful landscaping website with a classic and elegant look and feel. The soothing instrumental music makes the browsing experience as relaxing and rejuvenating as you want your outdoor space to be.
Mark Tessier
What We Like: Mark Tessier adopts a modern web design theme, which works very well for the brand. The site is packed with features but still easy to browse and read. This is thanks to how well they've organized the content. Plus how creative is that layout!
Hess Landscape Architects
What We Like: Hess's elegant landscape design site lets photos of their work do all the talking. This decision is on point, as the photos are crisp and gorgeous and their work outstanding. And even with minimal content, the clean, intuitive design ensures you can find what you're looking for easily.
Green Options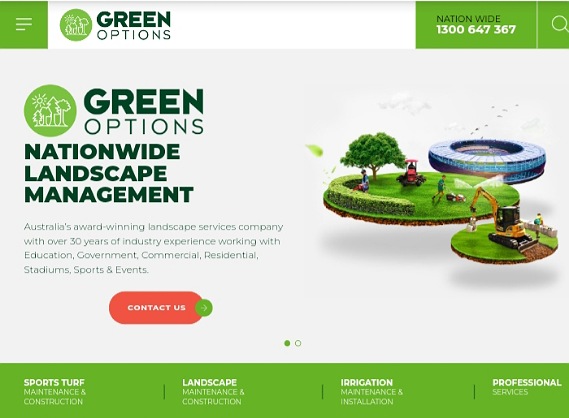 URL: https://greenoptions.com.au
What We Like: The vibrant green coloring is the first thing to draw your eyes when you visit Green Options website. The numerous images and easy to read content deliver a great user experience as well. You can tell what this landscaping company does at a glance.
Mike's Landscaping Co.
URL: https://mikeslandscapingco.com
What We Like: When considering beauty, landscaper Mike's digital home is one of the most attractive landscaping sites on the web. The site takes an image focused approach starting with the high definition landscape background that does a great job of showcasing their skills. Their logo and navigation menu are very eye catching thanks to the high-contrast background, and the call to action is laid out in plain sight.
Salvador Landscaping
URL: https://salvadorlandscaping.com/
What We Like: You can quickly tell what this landscaping firm offers. This is thanks to the clear list of services and the gallery of their work. The navigation menu comes in handy if you want to learn more and the phone number is large and visible.
T&C Designs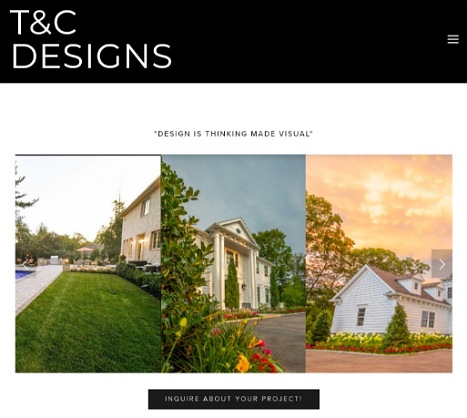 URL: https://www.tclandscapedesign.com/
What We Like: A clean and crisp design is complemented by a bold navigation menu that's easy to read at a glance but doesn't feel out of place. Great use of images as well. The site just looks and feels effortless but sophisticated and professional as well. A floating call to action button converts browsers into inquiries.
Barefoot Lawn Care
URL: https://www.barefootlawncare.com/
What We Like: The landing page has all the important elements of a good landscaping web design but without feeling too busy. The navigation is simple yet eye catching, the images are bright and inviting, the copy inspires trust, and the call to action is clear.
Reveal Design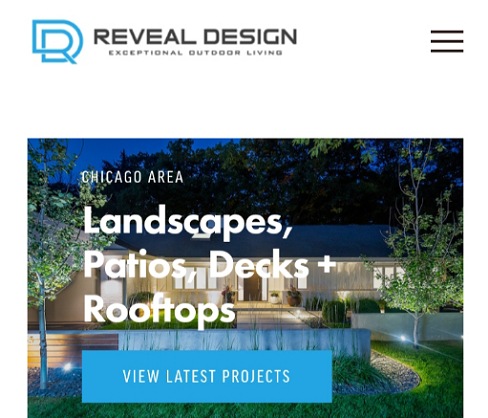 URL: https://revealdesignchicago.com
What We Like: Targeted towards people looking for unique landscaping concepts, Reveal design's website manages to stand out with an aqua color scheme and a minimal design. Potential customers will appreciate how intuitive the portfolio page is and the featured works are quite impressive.
Candide Contractor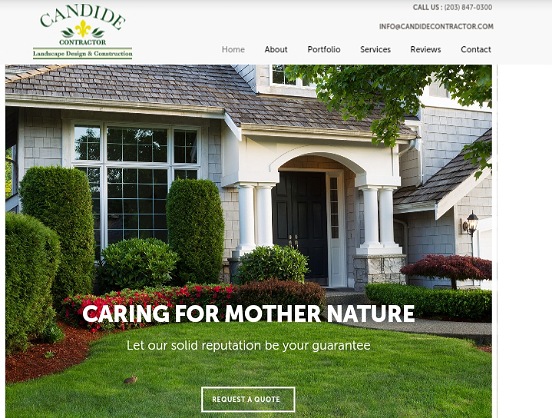 URL: http://www.candidecontractor.com
What We Like: The eye-catching images are the first thing to attract your eye when you land on the site. The layout also meets all the requirements of a good web design, with plenty of white spaces and easy to ready and font. The tagline emphasizes their unique proposition and the request a quote button drives inquiries.
Landscape Design Studio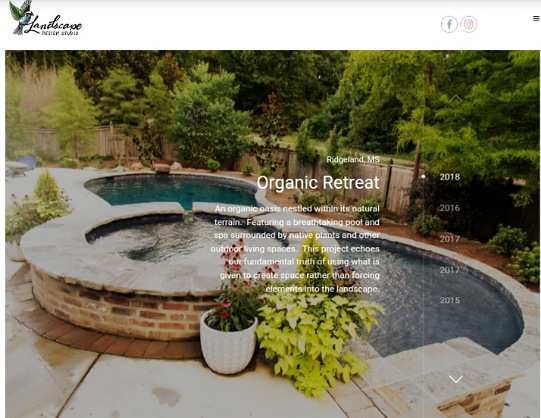 URL: http://landscapedesignstudio.net
What We Like: The most outstanding thing about this website by Landscape Design Studio is the layout. The slide show on the homepage works great and the portfolio page is well done without going overboard.
Manscapers LA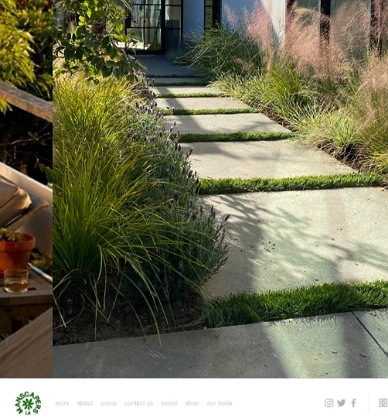 URL: https://www.manscapersla.com
What We Like: Using full scale images works great for Manscaper's landscaping site. It places their work on the spotlight while leaving plenty of white spaces to keep the overall look and feel light. And the few words used make a great impact. The navigation menu is placed at the bottom but still works great.
The Other Side
URL: https://www.theotherside.com.au/
What We Like: The Other Side landscaping company has an image centric web design. The photos convince you that this is a great company if you want to have the most beautiful landscaping in your neighborhood. The use of earthy colors works very well here to keep the design welcoming. And who can resist the offer for a free cost estimate!
Jones Landscape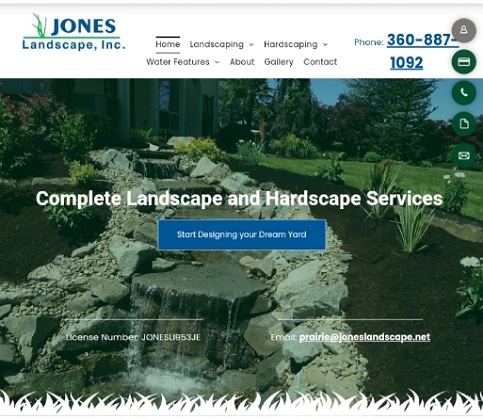 URL: https://www.joneslandscape.net/
What We Like: Jones Landscape adopts a modern minimal design approach with their website. Coupled with the photo of a beautifully landscaped modern home, the site will appeal to modern home owners. Thanks to this strategic web design, you don't even notice the absence of text. The business card offers different ways to contact the company and learn more about their services.
Harrison Landscape & Design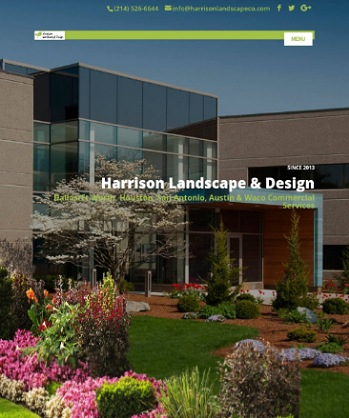 URL: https://harrisonlandscapeco.com
What We Like: The website has plenty of depth despite having minimal content. It makes the most of the power of images to make a lasting impression. The images are laid out in an inviting way and effective at communicating the message. Lastly, the contact details are positioned prominently on the main page.
Twisted Oak
URL: http://twistedoaklandscaping.com
What We Like: Twisted Oak is unique as far as landscaping websites go. Their use of contrasting colors is refreshing and very effective at capturing attention. It's also worth noting how professional the site looks and feels. With its elegant and sophisticated website design, it's easy to believe that they can make your outdoor space fresh and rejuvenating.
BRL LANDesign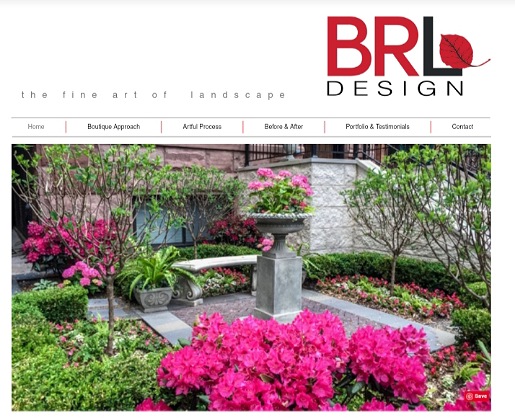 URL: http://www.br-landscape.com/
What We Like: BRL takes a different approach with their landscaping design which works very well with their slogan. The brilliant images pique interest while the enticing words on the top navigation menu drive you to click and learn more. Great images and copy throughout make the site an effective sales and marketing tool for this landscaping firm.
Highlands Landscaping
URL: http://www.highlandslandscaping.com/
What We Like: This landscaping website design gives the impression that Highlands Landscaping are professionals. The site is well organized and manages to convey their formal approach. Great logo design and a call to action that tempts visitors to reach out to get a cost estimate for free. Links to all their social media accounts are also visible.
Southern Lawn and Landscape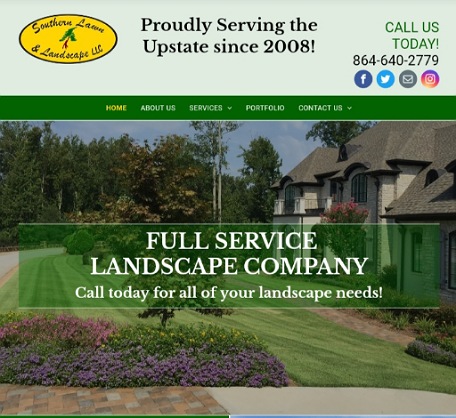 URL: https://www.southernlawnandlandscape.net/
What We Like: As you can see here, you can never go wrong by featuring a great example of your landscaping work on the homepage. Southern Lawn and Landscapes adopts simplicity and uses a high quality image that attests to their capabilities. If you'd like to learn more, the green background highlights the navigation menu. And the contact us button stands out.
Ritter Grounds
URL: http://rittergrounds.com/
What We Like: The green hue on the menu and subheadings is very eye catching. The image creates a focal point of interest while the abundance of white space make for a clean and airy design that doesn't overwhelm the reader.
Inside Out Design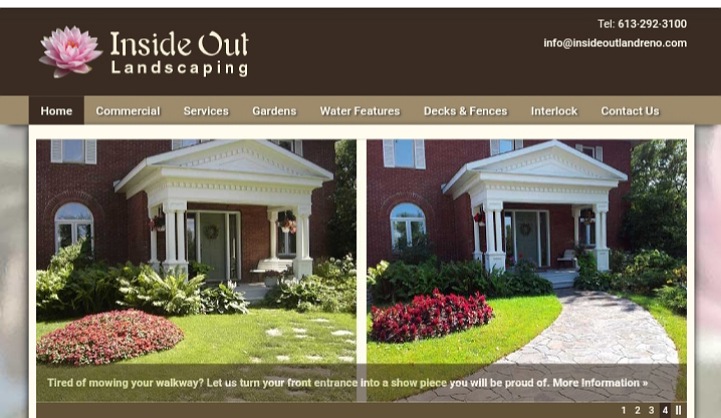 URL: https://insideoutlandreno.com/
What We Like: Inside Out is a turnkey landscape design company with a website unlike any other. This unique design suits their approach. Amazingly, the landing page has a lot going on but without being overwhelming. This is thanks to the clever use of colors, spaces, and design elements.
Richway Landscape
URL: http://www.richwaylandscape.com/
What We Like: The choice of featured image and slogan work together to make you feel that you're in the right place if you're looking for a landscaping company to transform your outdoor space into a relaxing haven for unwinding and refocusing. The short chunks of text give an overview of their services, while the menu links to more details. And the phone number and contact form are right in front all along, enticing the potential customer to get in touch.
Agriscapes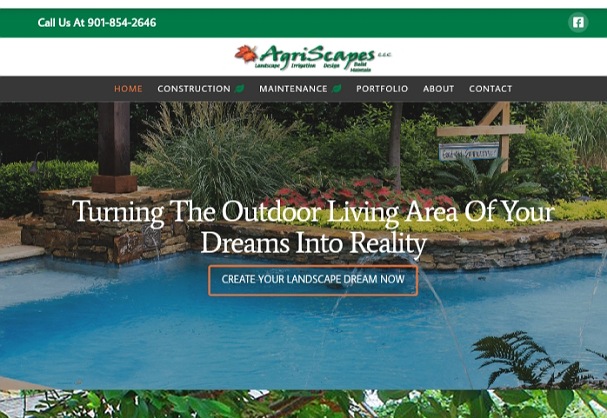 URL: http://agriscapes.com/
What We Like: When you're greeted by such breathtaking scenery, it's hard not to be impressed by Agriscapes landscape design. The content is minimal but the image speaks a thousands words about their skills and makes a powerful first impression. The innovative logo tells you about their services at a glance and the well-organized menu puts everything else you would like to know at the tips of your fingertips.
LiveWell Outdoors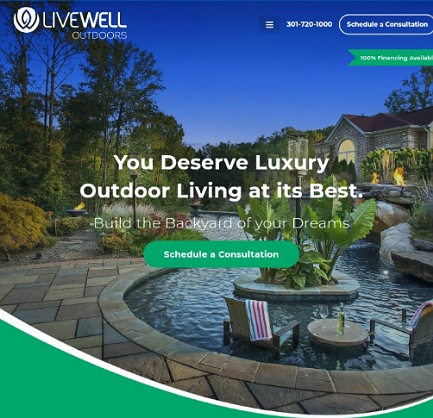 URL: https://livewelloutdoors.com
What We Like: LiveWell Outdoors takes a custom approach with their website. Their site is truly one of a kind with intriguing graphics and shapes. The art featured on the site works great without compromising ease of use.
Werners Landscaping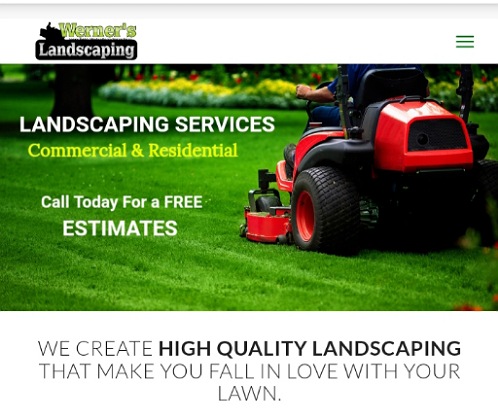 URL: http://www.wernerslandscaping.com/
What We Like: Werners Landscaping takes a simple approach with their landscaping website design. However, their use of impressive images and persuasive copy makes it easy to believe in their services. They utilize plenty of white spaces to keep the design airy and inviting.
Landcon
URL: https://www.landcon.ca
What We Like: Landcon's landscape design website looks professional yet has a welcoming feel as well. The pages look luxurious thanks to the high quality images and clean design. We also have to admit that the site conveys information effectively.
What Makes A Great Landscaping Website Design?
As you can see, a great landscaping website is a combination of many features and functionalities. As you work on your own design or redesign, keep these qualities that make a great landscaping website in mind.
Having A Clean Design and Intuitive Layout
Simple is the best way to go. Studies attest that simple websites are more effective at generating conversions. A simple, minimal look with plenty of white space is important to create a light, welcoming look and feel. A great website should also flow naturally and be easy to navigate.
Using Contrasting Colors
As you can see with the above landscaping websites, using contrasting colors is a great way to make the key areas pop. For example, you can use a green or black background to highlight the navigation menu and the call to action buttons.
Rendering Well On All Devices
Today, most people browse websites from mobile devices. Your website should render well on any device, whether mobile or desktop. For example, visitors viewing your site on smartphones shouldn't have to pinch, zoom or scroll sideways in order to read your content. This way, all your website visitors will have a great browsing experience and your search engine ranking will improve.
Featuring High-Quality Images
Landscaping is a heavily aesthetic business. When customers land on your landscaping site, one of the things they expect to see are pictures of your work. Using eye catching photos of spaces you've designed is the best way to showcase your capabilities to realize a yard's true potential.
After all, a picture is a worth a thousand words. Carefully selected featured photos and a well-designed portfolio page will go a long way towards converting visitors into inquiries.
Providing Valuable Content
While visuals are important for making a powerful first impression, it's valuable and engaging content that keeps visitors engaged and wanting more. Even the search engines love to index valuable content.
Having a blog and writing high-quality articles to solve problems is one of the best ways to attract organic search traffic and encourage social shares.
Optimizing for Local SEO
Today, most landscape design customers start their search for a landscaping company online. Local search engine optimization is the best way to attract local clients.
Optimizing your website for local search will ensure your website shows up when users type phrases like "best landscaping company near me".
Being Consistent With Your Brand's Personality
The best landscaping websites also manage to show off the brand's personality. Not only do the fonts and colors reflect the brand identity but the voice and tone are also consistent with the brand's style. Doing this will set you apart from the competition and give visitors a reason to choose you.
Including Lots of Social Proof
An attractive websites with great images of your work is great but potential customers will want proof that you really deliver on your promises. Adding social proof such as testimonials, customer reviews, and case studies is a great way to inspire trust and a powerful way to convert visitors into customers.
Having Clear Call To Actions
A landscape design website should do more than explain and show what the company does. More importantly, it should compel the target audience to take action.
Clear call to actions are proven ways to increase conversions. Make it easy for clients to contact you by placing clear call to actions such as get a quote button, clickable telephone number, or a tell us about your landscaping project form visible.
That's A Wrap!
There goes the best landscaping website designs. They do a great job of communicating who the companies are and what they do, offering great user experiences, and inspiring confidence in their services.
Hopefully, you now have a grasp of the industry standards and ideas to incorporate in your own landscaping company website. A good way to keep track of these ideas is to put together a mood board for your landscaping web design team to consult as they design your website.