Today, most prospective dental patients start their search for a dentist online. According to Dental Economics, 97% of all dental clients would rather visit a dentist's website to get information than call the dentist's office.
A well-designed website is, therefore, critical to the success of a dentistry practice. If you're starting a new dental practice or redesigning your website, we've got you covered with examples of the best dental websites to inspire you and a guide to dentistry web design best practices.
40 Dental Website Examples for Dentistry Web Design Inspiration
Dallas Dental Arts
URL: https://www.dallasdentalspa.com/
As a cosmetic and dental implant specialty practice, Dallas Dental Arts needs a website that pleases the eye. Their web design doesn't disappoint in this area. It's both attractive and functional. We love the high-quality images that draw the eye and drive engagement. Mentioning their award winning streak also lets potential clients know that this is one of the best dental practices in Texas. All the essential elements are on point from the copy to testimonials to the contact information.
Cedar Village Dentistry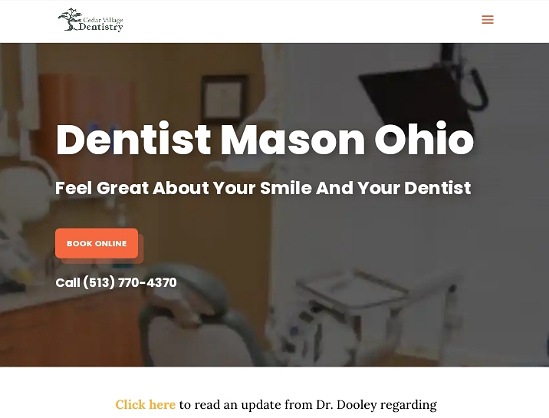 URL: https://cedarvillagedentistry.com/
There's a reason Cedar village Dentistry is considered one of the best dental websites. It offers a seamless browsing experience that takes visitors through everything they want to know about the practice including the insurance plans supported and financing plan for people without insurance. In addition, the site showcases before and after photos and shares patient stories. They also talk about their giving back to the community.
Studio Dental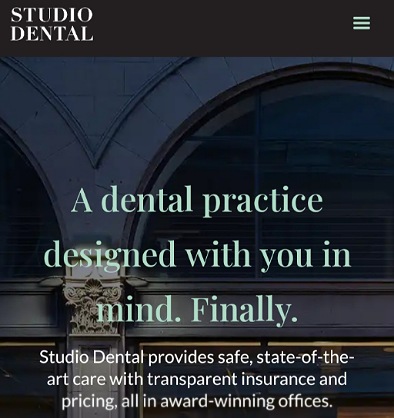 URL: https://www.studiodental.com/
Everything about Studio Dental is state of the art. From their website design to their offices to the equipment they use. It's obvious that their website was designed with users in mind. First off, the responsive web design looks amazing on mobile devices. It's easy to find the information you need via the top menu and booking an appointment is a breeze as well. The main page ends with links to their review pages on Google and Yelp, inviting interested visitors to read what past patients have to say about the practice.
Atlanta Dental Spa
URL: https://atlantadentalspa.com/
Atlanta Dental Spa's website design is focused on maximizing conversions while ensuring a great user experience. From taking advantage of the free virtual consultation to scheduling online to calling or texting, potential dental patients can get in touch in their preferred way. Highlighting media mentions and five star reviews on Google takes care of social proof and inspires trust. Images, videos, and before and after results keep visitors engaged. Navigation links are sprinkled throughout the main page.
Smile Culture
URL: https://www.smileculture.com/
Smile Culture takes modern dentistry to the next level. Not only do they offer a virtual tour of their dental care experience but they also offer virtual consultations. Videos of before and after results are a great way to connect with potential customers by helping them visualize results. All the essential information is provided and reading it is easy thanks to the font choice and use of white space. To establish credibility, they feature their award and share customer reviews.
Smile & Co.
URL: https://smileandcompany.com/
Adults who fear going to the dentist will fall in love with Dr. Ashley Joves dental practice. Her fear of going to the dentist inspired her to create a practice that does dentistry differently and that patients would love to visit. Her website lays out this key unique proposition clearly. You can even take a virtual tour. It also helps that the dentist herself comes across as really nice and friendly and the patient testimonials are stellar.
The Dental Suite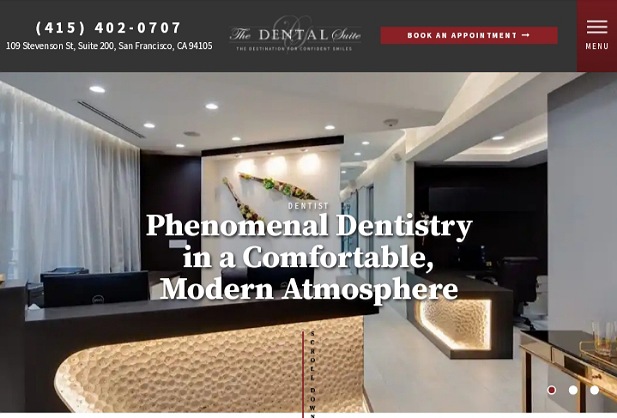 URL: https://www.dentalsuite-sf.com/
We love how The Dental Suite sums up their practice in one prominent headline, and the sliding images in the background showcase what to expect. Their photography and copy remains impressive even further down the page. They feature a black and white photo of their team and use radiant images to present their services. Raving reviews back up their claims and opportunities to get in touch and book an appointment are hard to miss.
Dr. Bill Dorfman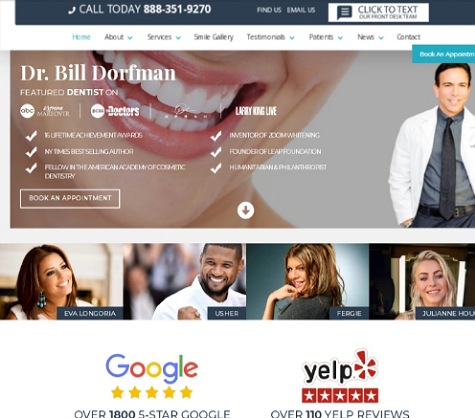 URL: https://www.billdorfmandds.com/
No one has done social proof better than Dr. Bill Dorfman. The hero section is dedicated to spotlighting his awards, credentials, media features, and the celebrity patients he has treated. Add to that the five star reviews on Google and Yelp and there's no question about his qualifications, reputation, or ability to deliver the desired results. Great presentation of the services provided. Last but not least, getting in touch is easy as you can call, email, or just text.
Downtown Dental
URL: https://www.downtown-dental.com/
Downtown Dental's online presence promises a phenomenal dental experience. Their web design and color scheme portray a professional image while Images of their smiling team make them seem approachable. These two qualities help inspire confidence and trust in this practice. It also helps that the presentation of their services, insurance acceptance, locations, working hours, and contact details is superb.
Marshfield Pediatric Dentistry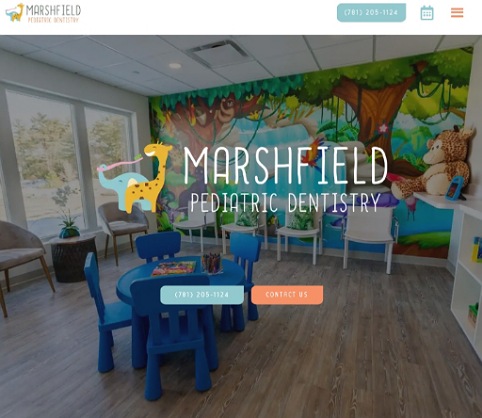 URL: https://www.marshfieldpediatricdentistry.com/
Designed with kids in mind. Loved by both parents and kids. If you're looking for a pediatric dentist, your search is likely to end here. The featured photos make it clear that Marshfield is committed to easing kids anxiety when going to a dentist and offering a fun and even comfortable dental care experience for little ones. For example, their waiting room doubles as a fun play room. Their content, dentist, and glowing reviews reassure parents that this is an excellent dentist for children.
Espire Dental
URL: https://espiredental.com/
Espire Dental features beautiful images showcasing beautiful smiles. What's impressive is that all these photos are of their patients. Seeing the amazing results they deliver will convince most prospective patients to choose them. And they make it a breeze to set an appointment right away with the easy to fill contact form positioned above the fold. Further down the main page are even more patient stories, before and after photos, and testimonials. Hands down one of the best executed dentistry sites.
Natural Dentistry
URL: https://naturaldentistrycenter.com/
This dental care website is quite busy and packed with information. However, it still looks good and offers a good browsing experience. This is thanks to the beautiful images and the use of contrasting colors. Talking of color scheme, it suits this biological holistic dentist. And the list of accolades quell any doubts about the dentist's qualifications. Most important, the phone number and call to action are prominently displayed in the header section.
PT Orthodontics
URL: https://ptortho.com/
You don't need a long landing page to market your dental practice effectively. Simple can be powerful when done right. PT Orthodontics sticks to simplicity with their web design, but without compromising any of the important elements of a dentist's website. The hero slider showcases the team and mentions their award winning streak. This is followed by a simple introduction to the practice and links to meet their dentists and learn about available financing options. Highlighted in a bright color, their call to actions stand out from the page.
Island Orthodontics
URL: https://www.islandortho.org/
The breezy web design and color scheme go with the name of this dental practice. It manages to make a visit to the dentist feel easy and fun. Hundred of five star Google reviews don't lie and this helps convince visitors that Island Orthodontics is worth a try. An easy to fill form, phone numbers, and comprehensive location information make it easy to schedule an appointment.
Archpoint Implant Dentistry
URL: https://www.archpointid.com/
Stating that they are the best dentist in the locations they serve is a simple but very effective way to introduce what they do. Their offer for a free first consultation and 3D scan is also very compelling. Further down, they offer even more reasons to choose them and share videos of real smile transformation. You also get to meet their friendly dentists. Besides clickable phone numbers and email addresses, they offer chat option live chat customer service.
Southwest Seattle Oral Surgery
URL: https://www.southwestseattleoralsurgery.com/
Dr. Christie's website is the epitome of simplicity. A stellar example of how great keeping it simple and clean works out. Thanks to superb organization and use of white space, the site delivers an effort free browsing experience that encourages visitors to keep scrolling. Stunning imagery and great copy too. Potential dentistry patients learn everything they need to know about this practice. And once they decide, there are multiple ways to book an appointment.
Children's Dentistry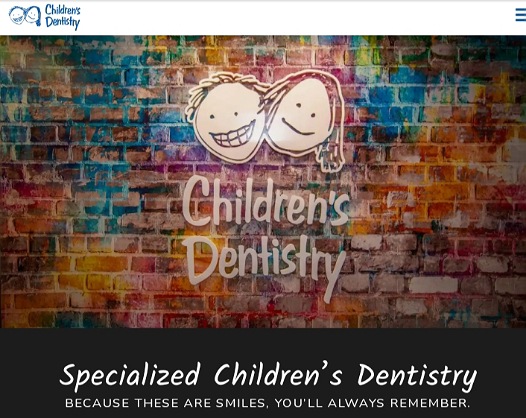 URL: https://www.childrensdentistry-wv.com/
As a pediatric dental practice, the branding here is on point. A parent looking for a dental clinic for their child immediately knows they are in the right place. From the photos to the font choice to the bright colors, this site to make dental care appear fun. The site also makes it clear that even their office is designed to help kids forget the anxiety a visit to the dentist can bring.
Neighborhood Dental Care
URL: https://neighborhooddentalcare.com/
Neighborhood Dental Care is a multiple awards winning dental practice. Their standard of excellence also extends to their website design. Their site ticks all the boxes: ease of navigation, readability, images, copy, organization, visual appeal, to social proof. You can see all their locations at a glance and obtain their contact information easily. Booking an appointment or paying online is easy too. Definitely one of the most visually pleasing and functional dentist web designs.
Empire Dental Aesthetics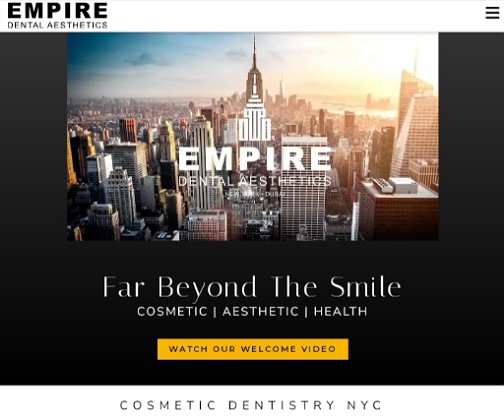 URL: https://www.empiredentalaesthetics.com/
High quality photographs and videos do a great job of conveying the luxurious and cozy dental care atmosphere Empire Dental offers. Their smile-focused copy then lets potential clients know what is in it for them. Sharing patient stories and testimonials is a great way to connect with readers and win their trust. We love the clean look and how the bright color makes the links and call to action buttons stand out from the rest of the website.
Joy Orthodontic
URL: https://www.joyorthodontic.com/
Joy Orthodontic is all about giving people a better smile through the use of braces. All elements of their website design, from the photos to the copy convey this clearly. The color theme and incorporating lots of white space lends their site a light airy feel that doesn't overwhelm. Also noteworthy is that the images bring out the beauty and joy a great smile brings. The site lives up to what an Orthodontic patient expects.
Harmony Dental
URL: https://www.harmonydentalbeaverton.com/
The name is spot on as this web design is truly harmonious. Thanks to the beautiful photography, calming color scheme, and easy to scan text, it's very easy for a visitor to keep scrolling. By the time they get to the footer section, they'll have gotten all the information they need. The stress free navigation experience has the power to convince a person to get in touch to inquire or schedule an appointment. Including their location and contact information at the bottom of the page makes it easy to call, text, book online, or visit the clinic.
Winter Garden Smile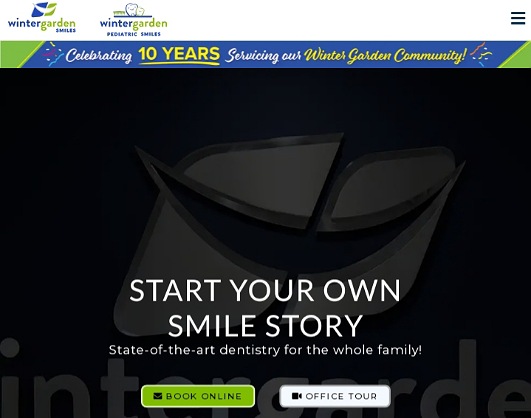 URL: https://www.wintergardensmiles.com/
Winter Garden's website is designed to provide everything you would like to know in order to decide whether to book an appointment. It will take you through a virtual tour of their office, tell you who they are and what they do, introduce you to their dentists, show you what past patients say, and give you multiple opportunities to book an appointment. All these elements are very well laid out. On top of this, the look is spot on from the white space to the colors.
Lake Bluff Family Dentistry
URL: https://www.lakeblufffamilydentistry.com/
Here is a website that manages to capture the relaxing, calming feel a dental office should convey. This is attributable to the uncluttered design, calming color scheme, impeccable organization, and easy to read font. This website promises a great dental experience and probably convinces many people to choose Lake Bluff dentistry. If you're sold, you don't have to wonder how to reach out and set an appointment as there are clear call to actions in the header and footer sections.
Bates Dental
URL: https://www.batesdental.com/
Sophisticated and luxurious yet inviting, Bates Dental's site definitely deserves a spot on this list. Not only are the aesthetics spot on but the web design is convenient and functional as well. You immediately know to expect professional dental services in a warm and welcoming office. We love how they use illustrations to give an overview of their services and procedures they offer, and have a stick on menu with the most important links. Testimonials attest to their quality of service. Finally, the website lays out comprehensive contact us information.
Clovis Orthodontics
URL: http://www.clovisbraces.com/
Clovis Orthodontics demonstrates that you don't have to use a lot of content to tell your story. As long as you include the most important elements, you can effectively market your practice with a simple and minimal website. The hero section engages visitors right away. Their eyes then move to the clear call to actions leading to the most important pages on a dental website. An about us section, social proof, and quick links to services then follow. The main page concludes with comprehensive contact information.
Brimfield Family Dentistry
URL: https://www.brimfieldfamilydentistry.com/
Brimfield Family Dentistry's modern and straightforward approach is evident in their web design. Visitors first get a virtual tour of the facility letting them know the kind of dental care experience to expect. On top of this, the site does an excellent job of communicating what sets this practice apart. Important details are clear including the services offered, insurance plans accepted, contact details, and location.
Peak Dental Practice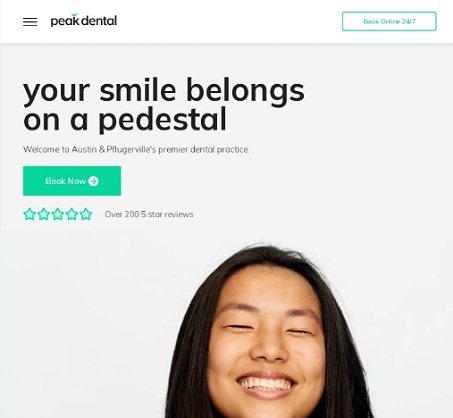 URL: https://www.peakdentaltexas.com/
Ease of booking an appointment online is where Peak Dental's web design excels. You can schedule a visit any time by filling a simple and straightforward form. Not only does this deliver a fantastic user experience but it also streamlines their operations. The websites highlights their promotions and five star reviews, which help in boosting conversions. All crucial details are covered, and the readability and color scheme are spot on.
Endodontic Excellence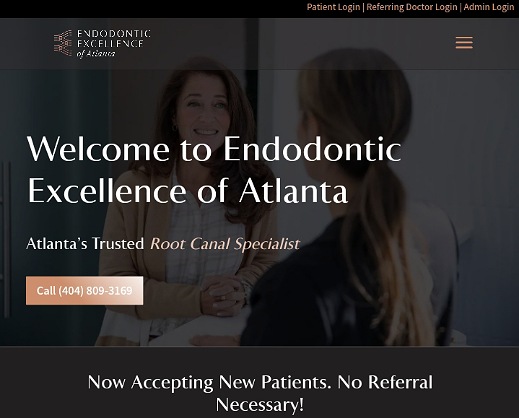 URL: https://www.endodontistatlanta.com/
Dr. Megan King is an award winning dentist in Atlanta and her dentistry website lives up to her reputation. The website establishes the brand's specialty and credibility right away and provides a clickable phone number so interested patients can easily get in touch. On top of this, the site provides plenty of information about their treatments so you can make an informed decision. Everything you want to know is covered, from the contact information, opening hours, to the clinic's physical address.
Village Dental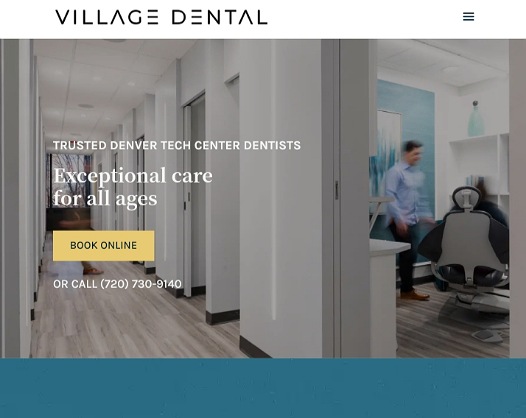 URL: https://www.villagedentaldtc.com/
Village Dental has very enticing offers and guarantee and their web design puts these at the forefront. A great way to capture the visitors' interest. Patient testimonials reinforce this interest. Quality images of their facility showcase a gorgeous and peaceful office and friendly staff. Definitely one of the best dental websites that does a great job of putting forward what the practice has to offer and capable of convincing visitors to book an appointment.
Jackson Family Dental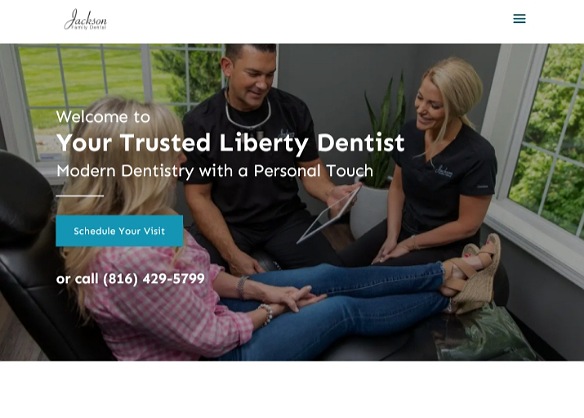 URL: https://jacksonfamilydentalonline.com/
Jackson Family Dental is a family-oriented dental practice that uses state of the art technology to provide dental care. The website reflects these qualities that set them apart from other practices. Additionally, they use engaging images to draw attention. The copy answers the questions potential patients have, testimonials inspire trust, and each page has enough call to actions. Overall, the site has an easy, relaxing vibe.
Delta Centre for Laser & Cosmetic Dentistry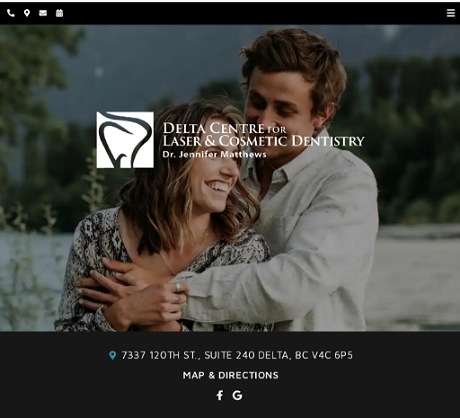 URL: https://www.jennifermatthewsdmd.com/
Dr. Jennifer Matthews also follows a simple approach. Location and contact information are prominently displayed above the fold while beautiful images draw the eye and encourage scrolling and clicking to learn more about the practice. Text is kept minimal but without compromising on the delivery of information. The footer section offers even more ways to get in touch. Overall, the website is visually appealing and easy to follow with clear navigation.
Westside Family Dentistry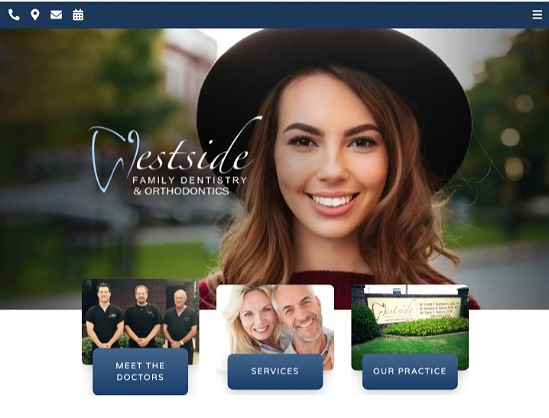 URL: https://www.westsidefamilydentistry.com/
You don't have to scroll down this site to learn what this dentistry and orthodontics practice does. Whether you want to learn more about the clinic or set an appointment, links to the most important information are featured above the fold. Further down the page is more information about the practice, their services, and financing options. The main page also links to their reviews and Facebook page.
Town and Country Dental Arts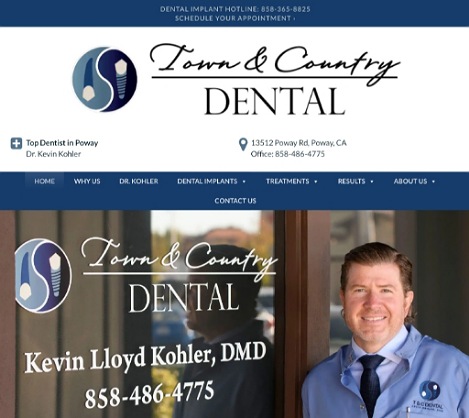 URL: https://tandcdental.com/
What we love most about this website design is the complete navigation menu at the top and bottom. It has links to everything potential patients might need or want to know. Additionally, visitors don't have to hunt for the phone number or schedule an appointment button as they are clearly displayed. The rest of the page provides more details about the clinic and its services, technology, and dentist. There's even a link to their Google reviews.
Aspen Dental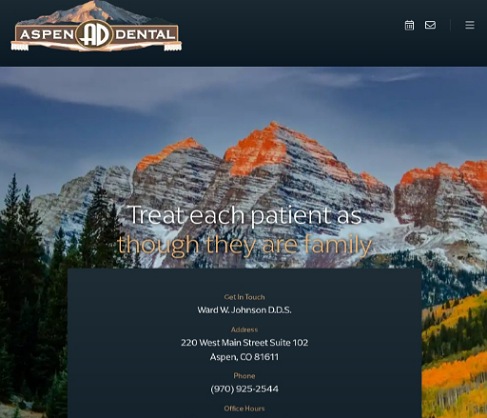 URL: https://www.wardjohnsondds.com/
The breathtaking photo of the Aspen scenery makes for a beautiful background and also lets anyone looking for a dentist in Aspen know that they're in the right place. All the important details potential dentistry patients look for are presented in the hero section, making then easy to locate. Below that, you can learn more about the clinic. This web design is concise but still presents all the important info.
Banff Dentistry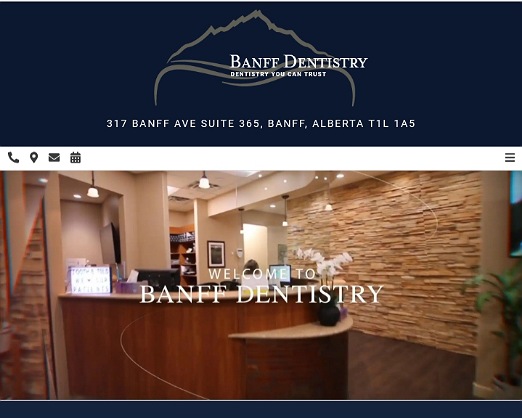 URL: https://www.banffdentistry.ca/
Banff Dentistry has one of the best dental web designs. It's visually pleasing, well-organized, and easy to navigate through. They present their physical address, contact details, and book an appointment link right away. The main image showcases their warm and welcoming office atmosphere. This is followed by links to the crucial pages. Banff's web design utilizes images, videos, text, and social proof to connect with visitors and tell their story.
Provinces Dental
URL: https://www.provincesdental.com/
This visual dentistry web design lets beautiful images do most of the talking. It manages to present all the important information while keeping text to a minimum. This makes their website eye catching, engaging, and easy to use. All users have to do is scan through the photos and click on what they're interested in. Their social proofing is also on point, with award banners, testimonials, and organizations they belong to. As for getting in touch, the header and footer section provide comprehensive contact details.
Better Living Through Dentistry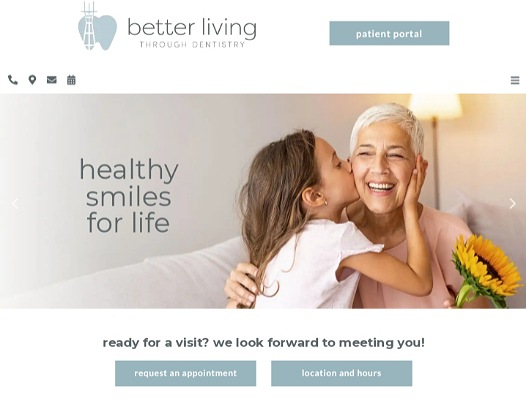 URL: https://www.betterlivingthroughdentistry.com/
This dentistry site has an inviting and stress-free vibe. People of all ages, races, and orientations can feel at home, as the slideshow of engaging photos lets them know that this practice caters to everyone. The design is simple and elegant. Easy to navigate through and doesn't leave visitors overwhelmed. Still, it has all the important functionalities and information including testimonials and dentist bios. Potential clients can set an appointment online or visit the office.
HillCrest Dental Group
URL: https://www.hillcrestdentalgroup.net/
Hillcrest's dentistry web design lays out the most important details right away. Users don't have to struggle to find contact and address information. Before deciding whether to book an appointment, potential clients can take a virtual tour of the office and get to know the team online. The about section, services, and testimonials are all on point. Finally, the orange hue makes call to actions clear.
Glenview Dental Associates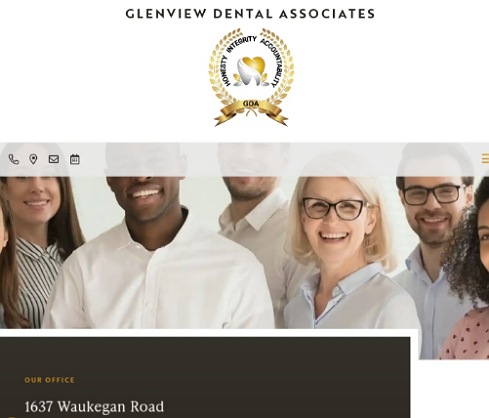 URL: https://www.glenviewdental.com/
Thanks to the featured image on the hero section, this website creates a warm and engaging impression. The unique logo that outlines their values also helps establish trust. Right below the main image is their physical address and two call to action buttons to drive calls and online appointments. Use of subheadings and contrasting colors break up the text making it easy to read or scan. Last but not least, the oral health FAQ section is a great way to engage readers.
Cumming Pediatric Dentistry & Orthodontics
URL: https://www.cummingpedoortho.com/
This award winning pediatric dental practice has one of the best dental web design that suits the target clients. Thanks to the color choices and featured photos, it comes across as fun and kid-friendly. Additionally, showcasing the mom approved badges goes a long way in encouraging parents to bring their kids here. The tap to call phone number and request an appointment button stand out on the page.
What Makes A Great Dental Website?
Now, let's look at the features that define the best dentistry websites. As you work on a website for your practice, have in mind the following qualities that make dental web design visually appealing, engaging, and effective at generating inquiry calls and online bookings.
Make Location and Contact Details Accessible
One feature that's consistent across all dentistry sites is that they display their contact information in the header section, the hero section, and the footer area.
Furthermore, they offer a variety of ways to get in touch including a tap to call phone number, an email address, a book an appointment button, a contact form, their physical address, and location marked on a map.
Provide Essential Information
Most visitors to a dental website want to learn who you are, what you do, and how you do it. This knowledge gives potential patients an understanding of your practice and helps them decide whether it's the right practice for their needs.
To answer these questions, it's important to provide the following information:
Detailed contact information including the full address, phone number, email, a map, and directions for each location.
An "About Us" section that tells your story and highlights your unique selling points.
Educate patients about the services and procedures you offer and how to maintain dental health.
A comprehensive FAQ page that answers the most common questions.
List the insurance plans you accept and any payment plans and solutions for patients who do not have dental insurance.
Share dentist bios that portray friendly professionals and details their qualifications
Use Engaging Images and Videos
When you only a few seconds to make a great impression, featuring beautiful photography is the best way to capture and engage visitors interest. Images also help break up blocks of text creating an easy to read layout.
Before-and-after photos are especially powerful because they help people visualize the results they can expect from your practice. Also effective are images that showcase the outcome of your dentistry services: beautiful smiles.
Using videos is a great way to make your website come alive. You can feature a video background in the hero section or offer a virtual tour of your office.
Create Treatment/Service Pages
In addition to giving an overview of the treatments and services you offer on the main page, each service or procedure should have its own page.
These pages will not only educate visitors about the treatments you offer letting then know what to expect but they will also enhance your search engine ranking. You will show up when someone searches for the services or procedures in your area.
Allow Online Scheduling of Appointment
A dental website should enable new and existing patients to schedule appointments online easily. Patients love the convenience of booking visits online and this functionality also helps streamline your operations.
Go a step further and offer patient forms so prospective patients can complete their paperwork online. You can use digital forms or PDF forms they can print and fill out.
Provide Social Proof
Social proof is extremely important when it comes to getting visitors to trust you and make you their dentist of choice. Visitors are more likely to trust and get in touch after reading authentic positive reviews from satisfied clients.
Beyond claiming you're the best dentist in the area, go a step further and back up your claims with social proof. Feature select testimonials from real customers and offer links to read more reviews on Google or Yelp. Share inspiring patient stories. Have you won any awards? Proudly display them.
Optimize Your Content for the Search Engines
Search Engine optimization (SEO) is very important for dentists. It's the key to a dental website that ranks on the first page and gets found by your target audience. For example, it can ensure your website shows up when people in your location search for a dentist online.
Publishing SEO optimized content is the best way to improve your site's rank. Use your most important keywords in your headings and subheadings and scatter them in the content. Use keywords alt image tags and optimize your website for local search.
Use Compelling Clear Call to Actions
Clear call to actions are a compelling way to get visitors to deliver your most wanted response. Feature a clickable phone number and book an appointment button on the home page. Every page on the website should also have a relevant call to action.
Portray A Professional Image
Potential dental patients want assurance that they are choosing a professional dentist to take care of their teeth. Good dental web design should therefore portray professionalism.
Keeping the website simple with a well-organized structure and clear navigation, adhering to web design principles, using professional images and making good use of the brand's colors are all ways to create a professional image.
Deliver A Great User Experience
Great dentistry web design puts user experience first. Both new and existing patients should have a seamless experience when navigating through your website. The ideal website for dentist offices is clean and organized and has a straightforward navigation structure.
The key to connecting with your target audience is to identify their needs and design with them in mind. Are you targeting kids? Design a fun website that makes going to the dentist fun. Is your practice geared towards seniors? Use large, easy to read font.
Use Responsive Web Design
With the majority of internet users now using mobile devices to access the web, responsive web design has never been more important. Your website should render well and be easy to read on any device.
Responsive web design means that the website resizes automatically to fit any screen size and deliver a flawless viewing and reading experience on any device.
Be Friendly and Consistent with Your Brand
The key to differentiating your website from the other dentistry websites out there is to ensure that your web design reflects your brand personality. Use your brand's color scheme, maintain your brand's tone of voice, and use the same branding elements as in your marketing materials.
Use an inviting tone of voice. Visits to the dentist can bring a lot of anxiety. It's therefore important to keep the tone light and reassuring so prospective patients can feel at ease.
Have A Regularly Updated Blog
Providing patient education is one of the goals of a dentistry website. Beyond educating readers about dental health, publishing helpful blog posts will also help your website rank high in the search engines and attract prospective patients.
What Is the Importance of Websites for Dentists?
A website is one of the greatest marketing tools for a dentistry practice. Most prospective dentistry patients prefer to obtain information from a dentist's office instead of calling or visiting the practice.
It's therefore important to have a website to represent your practice online. It ensures that people can find your practice when they search for dental services in your location. As the face of your practice online, your site shows potential patients who you are and what you do.
What Should Be on a Dental Website?
Here are some must-have features a dentistry website should have in order to deliver a positive user experience and drive action:
Online booking functionality
HIPAA-compliant patient forms
Payment and insurance information
Clickable phone number and email
Comprehensive location information
Dentist Bios
Services/procedure pages
About us and FAQ pages
Clear and prominent call to actions
It's A Wrap!
A website is a critical marketing asset for a dental practice. However, it's not enough to simply have an online presence. You need an effective site that gives visitors a positive experience, communicates your expertise, and encourages people to contact your practice.
Hopefully, the above examples of the best dentist websites and dental web design best practices will inspire and guide you to create a user-friendly, engaging, and high-converting website for your practice.